9 Reel Video Slots - Free Slots Games sorted by Popularity
Play these Flash or HTML5 based online slot machine games provided by 9 Reel Video Slots at Top Free Slots. No download required to play the games - just click on the image and wait for the game to be loaded in your browser window. You can play all these 9 Reel Video Slots for free or try your luck for real money at recommended online casinos. You can play multiple slots games developed by the leading gaming software providers. These slots that offer high payout, exciting bonus features, and wild and scatter symbols to ensure multiple winning combinations and exciting wins, almost on every spin.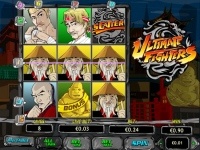 Ultimate Fighters (Playtech 9 Reel Video Slots) - Preview Image
Ultimate Fighters is a unique 9 reel, 8 payline slot machine game based on the popular video games like Street Fighter and Mortal Kombat. This Playtech slot offers great winning potential with 5,000 coin top jackpot and Ultimate Fighters Bonus Round. 9 different fighters on the pay-lines will bring you some wins, while 5 masked ladies can deliver up to incredible $75,000 payout!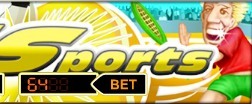 Crazy Sports (Net Entertainment 9 Reel Video Slots) - Preview Image
Crazy Sports slot game has 9 reels, 8 paylines and top jackpot of 3,000 coins. The game offers Skill Stop Feature that gives you more control over the game by being able to stop the reels while they are spinning.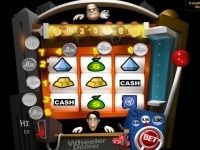 Wheeler Dealer (Win A Day 9 Reel Video Slots) - Preview Image
The Wheeler Dealer is an 8-payline, 9-reel progressive slot machine game, where the progressive jackpot starts at $50,000. The game features Free Bonus Spin and awesome payouts. Collect six diamonds in the vase and win free bonus spin. Bet max to get top prizes.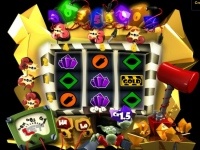 Gold Boom (Win A Day 9 Reel Video Slots) - Preview Image
Gold Boom is a 9-wheel, 6-payline slot game that offers free bonus spins, Progressive Jackpot and awesome payouts. Bet max and win progressive jackpot with 3 Gold symbols on an active payline. 3 wild Diamonds activate Free Spins Bonus Round.

Vacation Station (Playtech 9 Reel Video Slots) - Preview Image
Vacation Station is a 9 reel, 8 line slot machine game with a big regular jackpot of 4,000 coins (hit three Planes on any payline) and 8 other winning opportunities plus a scatter wins. Players need to bet max 3 coins per payline to get the highest odds. Extra prizes can be won by hitting 4 to 9 Suitcase (Scatter) symbols anywhere on the screen. Vacation Station has a traveling theme with every symbol being some form of transport - spin ships, cars, buses, trains, motocycles and submarines to win big. Try out Flash version of this slot for free. See reviews of other 9 reel slots.

Chinese Kitchen (Playtech 9 Reel Video Slots) - Preview Image
Chinese Kitchen slot machine game has 9 reels and 8 lines of payout with 11 possible winning combinations and top jackpot of 1,000 coins. Hit triple crabs, snails, frogs, ducks, fish, caterpillars, octopus and starfish to win. Even single "Crab" symbol pays 2xcoin size, two symbols - 10 coins. Play this fun instant slot game online casino Tropez similar to Vacation Station - it's free.