Fruit Machines - Free Slots Games sorted by Popularity
Play these Flash or HTML5 based online slot machine games provided by Fruit Machines at Top Free Slots. No download required to play the games - just click on the image and wait for the game to be loaded in your browser window. You can play all these Fruit Machines for free or try your luck for real money at recommended online casinos. You can play multiple slots games developed by the leading gaming software providers. These slots that offer high payout, exciting bonus features, and wild and scatter symbols to ensure multiple winning combinations and exciting wins, almost on every spin.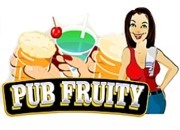 Pub Fruity (Microgaming Fruit Machines) - Preview Image
Pub Fruity is a classic fruit machine found across pubs all over Britain. Get that UK pub atmosphere and great gaming action in the 3 reel single payline online slot machine with two exciting bonus games. Land 3 dart symbols on the reels to activate an amazing Dart Contest bonus game where huge payouts are guaranteed. The Pub Fruity drinks trail bonus game, top jackpot can be 500x your bet. Try this generous fruit machine with huge winning opportunities right now, for free.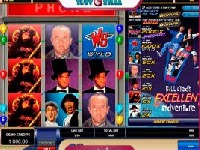 Bill & Teds Excellent Adventure (Microgaming Fruit Machines) - Preview Image
Bill & Ted's Excellent Adventure is an outstanding UK style Fruit Machine (AWP) that will entertain and reward, it may not help you with your history, but it'll certainly put a smile on your face. Play Bill & Ted's Excellent Adventure instantly, no download required.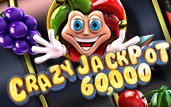 Crazy Jackpot 60000 (Betsoft Gaming Fruit Machines) - Preview Image
Crazy Jackpot is simple, engaging and fun. Designed for those who don't have patience for all those special effects, funnies and inbuilt cartoon shows, Crazy Jackpot 60,000 is pure, uncompromised fruit machining at its best.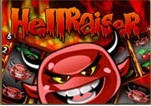 HellRaiser (Betsoft Gaming Fruit Machines) - Preview Image
Hellraiser is multi-featured 4-roll, 10-line retro-style, fruit machine. Its classic look and feel will make you smile at first sight, but once you start playing, its amazing sounds, flashing lights, buttons and play combinations will be pure delight for anyone with a passion for complex retro slots.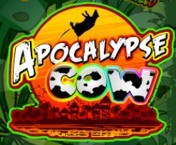 Apocalypse Cow (Microgaming Fruit Machines) - Preview Image
Play this new fruit machine game Apocalypse Cow from Jackpot Factory. All Slots online casino presents its zany take on a cult movie from the Surreal Seventies - this is pure, unadulterated fun in the great UK fruit machine style. Developed on a 3 reel, single pay-line platform, Apocalypse Cow is an AWP slot machine with the traditional Nudge and Hold features. It's a fun way to win and beat the odds and perhaps even skim the top jackpot of 500 coins.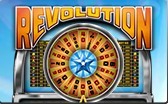 Revolution (Betsoft Gaming Fruit Machines) - Preview Image
Revolution is a potent package of several fruit machine games in one, all wonderfully classic, allowing you to switch pace and slot style without having to let the slots cool down. Try this brand-new slot for free right now.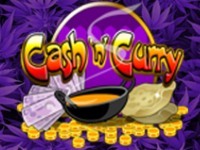 Cash n' Curry (Microgaming Fruit Machines) - Preview Image
Cash 'n Curry is a new fruit machine that was released by Microgaming on a Flash platform first and also available in download version on Viper platform from March 2007. It's the type of fruit machines like the ones you can find in British pubs. 3 reel, single pay-line slots game has Indian cuisine theme, 9 winning combinations and multiple bonus features. Find large multipliers along with Nudges, Holds, and Gamble Nudges, all of which you can use to your advantage. The Hold feature is random and enables you to hold up to 3 reels in the same position for the next spin. 3 Balti symbols in a row will activate the Cash 'n Curry bonus game. Cash 'n Curry is a very popular AWP Flash, interactive game, laced with challenging skill elements and a plenty of extra features that can take you to the ultimate Curry Go Round jackpot of 500 coins max.

Super Nudge 6000 (Net Entertainment Fruit Machines) - Preview Image
Super Nudge 6000 looks like classic online slot machine but it features two sets of 3 reels and 5 paylines, and Super Meter Mode.

Bingo Bango Boom (Microgaming Fruit Machines) - Preview Image
Bingo Bango Boom is a UK pub style fruit machine game with Nudge Features, Hold Feature, and various bonus games. The game is half bingo, half fruit machine. The Bingo Bango Boom Bonus consists of a Bingo Card, Bingo Machine and 8 other bonus features.

Enchanted Woods (Microgaming Fruit Machines) - Preview Image
Discover the magic of the mysterious garden in the new special game with 5 reels and single payline. If you see the girl that is too beautiful for words that must be the Purple Fairy, who is a Wild symbol. With Hold feature you get 1 more Free Spin just for one bet.

Dubya Money (Microgaming Fruit Machines) - Preview Image
Dubya Money is a 3 reel, one pay-line slot machine Flash Game with good, American-style theme on a UK-feature AWP fruit machine platform. President Bush helps you win in this fruitty style game with a number of exciting bonus features. Symbols on the reels contain numbers that you accumulate to advance along the Bonus Number Trail Ladder to activate the Oil Fields bonus game offering multiple possibilities to win including Win Again! feature (which guarantees a random win on the reels), Nudge Mania (where you can win up to 15 nudges), Spin a Win (which guarantees a random win), Oil Strike (get 1 spin on the original game to try to land on an oil barrel to win money), and Dubya Money (which creates bonus reels to increase your chances of winning). The nudge feature allows you to bump a reel to the next symbol, and try to win up to 15 reel nudges per spin. The hold button allows you to hold a reel for the next spin. Select the reel you want to hold, up to three reels at the same time. Then you click the Spin button, and only the reels that aren't in the hold position will spin.

Abra-Kebab-Ra (Microgaming Fruit Machines) - Preview Image
Abra-Kebab-Ra is a fantastic 3 reel and one payline slot game with a traditional pub fruit machine style is the latest addition to Microgaming's portfolio. Take advantage of the classic nudge and hold functionality, play Hi/Low bonus game and use Shift a slot feature to increase your winnings.

Pandamonium (Microgaming Fruit Machines) - Preview Image
Pandamonium is a 3 reel, one payline, and single coin slot machine game with a great number of exciting features including Pandamonium Pit bonus game. You can win a top jackpot of up to 2,000 coins per spin. Once the Pandamonium Pit bonus game is activated, you can reach the various features by clicking the Spin button to spin the bonus reel. You progress along the bonus trail by continuing to spin the bonus reel. If you land on a mystery position, additional features activate. If you reveal the booby prize, the game ends and you lose all accumulated prizes. If you land on a feature position, you can choose to collect that feature, or you can continue playing to try to land on a more valuable feature. Head Banger is a reel-based feature and guarantees a random win on the reels. Eye of the Panda is a guaranteed jackpot win feature. There are several more features. Try this exciting free slot machine game presented by All Jackpots online casino.

The Gee Gees (Microgaming Fruit Machines) - Preview Image
The Gee Gees is a tribute to the trio brother's once famous music band called the "Bee Gees". The fruit machine game seems to dance with this rhythm of superb disco music and offers various bonus feature from Hold and Nudge to the Disco Dancefloor Bonus.

Track And FieldMouse (Microgaming Fruit Machines) - Preview Image
Track & Fieldmouse is a pub slot machine with nudge and hold functionality with rewards being given by win spins on a feature screen. Players will be rewarded with an entertaining gaming experience, delivered via the Sporty theme and interactive features. Watch out for the 500x Jackpot logo that can deliver up to 500-coin win.

Win Spinner (Microgaming Fruit Machines) - Preview Image
Live the life of luxury with the Win Spinner UK pub fruit machine game that delivers high quality casino action, right down to very last spin. Hit 3 fruit/coin/bell symbols and activate up to 25 Win Spins with a 500x bet multiplier jackpot.

Treasure Ireland (Microgaming Fruit Machines) - Preview Image
The luck of the Irish could be yours when you sign up for an exciting cruise with the jovial Irish crew of clover leaf pirate Jackpot Jack in new and exciting fruit machine game Treasure Ireland at All Slots online casino. Developed on a 3 reel, single pay-line platform, Treasure Ireland is an AWP machine with the traditional Nudge and Hold features that enable players to give Lady Luck an extra push to deliver on a range of winning opportunities including highest jackpot of 500x your bet for hitting 3 "Clover Leaf Pirates". The slot has a typical lapper style feature board built around a treasure map with Feature and Nudge stacks and a cash pot where 3 "Map" symbols in view activate the bonus feature. With brilliant graphics and sound effects the game creates the right wild Irish atmosphere. Play it for free right now - no download required to play Flash based slot machine games on Top Free Slots website. You may also try a similar AWP slot machine game - Apocalypse Cow with the same 500 coin jackpot, and Nudge and Hold bonus features.

Ocean Princess (Playtech Fruit Machines) - Preview Image
Ocean Princess is based on a 3-reel, single payline slot game with a Hold Feature, that allows you to spin 5 rows at a time. So, this multispin slot offers a great number of winning combinations, Wild symbol (Crown) and top jackpot of 1,000 coins (on each line). The theme of the slot machine game is set around an Ocean Princess - spin starfish, crabs, sea horses, anchors and crowns to win. Play this exciting free instant slot game from Casino Tropez.

The golden crown with the word "Wild" written on it, is a wild symbol – meaning it stands for any other symbol, like a joker in card games. The three wild symbols pay 1000x line bet only if you play for max bet. Otherwise they only pay 250x line bet. Click the Paytable button to see the paytable and learn about winning symbols and their values.

Tropic Reels (Playtech Fruit Machines) - Preview Image
Online Casino Tropez is proud to present you 'Tropic Reels' - a 5 row multispin video slot game where you can hold one or two reels and spin 5 times at once. This slot machine has 23 winning combinations and regular jackpot of 2,500 coins if you hit three Wild "Tiger" symbols. Spin instant Tropic Reels for Free right now, no download is ever required.